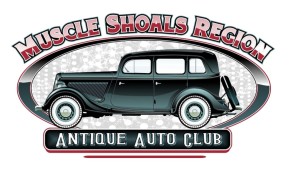 Muscle Shoals Region is located on the Tennessee River in the northwest corner of Alabama and is comprise of Lauderdale and Colbert counties and the cities of Florence, Sheffield, Tuscumbia and Muscle Shoals City. Muscle Shoals is known for its music recordings and birthplaces of W.C. Handy and Helen Keller. A number of our members enjoy displaying their antique cars at the W.C. Handy Festival in Florence and the Helen Keller Festival in Tuscumbia.
Wilson Dam, authorized by President Woodrow Wilson to help power the nitrate plants for munitions during World War I, was built just downstream from Muscle Shoals City. In 1922, Henry Ford tried to buy the nitrate works and the unfinished dam, but his bid was rejected by Congress. Nearby Ford City was named after Henry Ford. The dam was completed in 1924. The Tennessee Valley Authority was created by President Franklin Roosevelt in 1933, with the idea that Muscle Shoals City would be its headquarters. It was ultimately decided that the headquarters should be in Knoxville, Tennessee.
The Muscle Shoals Region, AACA is sanctioned by the national Antique Automobile Club of America. AACA membership is require of all its regions/chapters members.